5 Lut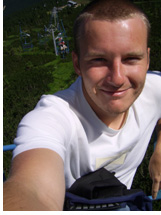 My knowledge supports work experience in the programmer workplace, WWW information service administrator and IT system administrator. I participated in creating distributed system for collecting and analysing selected medical data in clinic of urology, I administered and created website special activity group Integra on the University of Bialystok. I have also constructed E-mail website client. I am sure that my knowledge could be used in any company.
My working on information projects provided me cognition, implementation, construct procedures a IT system and learned me optimization and planning techniques.
During contacts with the foreign (Czech) science and informatics teams I found myself as a very open-minded and good partner in work. I'm up to a task, I can handle every briefed project.
I search and realize projects which they deliver me satisfaction and make me progressive.
For one's part I offers knowledge, hard working, reliability, creative ideas, responsibility and flexibility. I am a communicative person establishing contacts with another people without any problem. I learn very quickly and Williego.